Who does not dream of wearing jewelry that gives out luxury and sophistication? We all do. We always crave that touch of quality and affordable luxury jewelry in our fashion. However, the idea of luxury often comes with a hefty price tag that can leave many of us feeling like we are window-shopping in the world of our dreams. 
But there is a delightful secret to luxury- It does not have to cost a fortune. Affordable luxury jewelry is increasingly becoming popular in the fashion industry and is known for high-quality materials, timeless designs, quality craftsmanship, and great attention to detail.
Succinctly put, if you love luxury, there are attractive options you can go for without breaking the bank. But how do you get the best quality jewelry in the market without spending too much? This is what this blog will be about- we will lead you through what goes into jewelry pricing, the jewelry materials that are much more affordable, and also let you know the best time you can purchase if you want the best price.
Let's get started!
The Secrets of Jewelry Prices and Markups
You probably would have wondered why some jewelry costs so much with the price range. The reasons are not far-fetched. The first trait that affects the price of jewelry is the material or metal used. The most common metals used in fine jewelry are Gold and Silver.
Gold is a natural metal extracted from the ground and purified before turning into jewelry. This process of extraction and purification increases the value of the metal; hence, a reflection on the price of jewelry made with it. Also, the high demand for gold affects- the more people want to buy gold, the higher the price will be.
Silver, the most common next to gold, is less expensive but may also be costly based on the content quality.
Additionally, overheads like rent, utilities, and staff salaries play their part. Traditional retail usually involves higher markups due to middlemen and additional costs, while direct-to-consumer models (D2C) can offer more competitive pricing by eliminating these intermediaries and selling directly to the buyer.
D2C brands allow you to get luxury jewelry at an affordable price, and they have better control over their brand image, product quality, and customer relationships giving you a more personalized shopping experience
Brands well-known for luxury tend to have higher price tags because of their established prestige and recognition. Many people are more willing to pay for the assurance of quality, craftsmanship, and the status associated with renowned jewelry brands. In other words, a brand's reputation adds to its price. Handcrafted jewelry that demands more time and skill is more expensive than mass-produced items. As such, if you want custom jewelry, you might get the luxury at a higher price.
What else? The more complex a jewelry design is, the more expensive it tends to be.
Takeaway: Direct to Consumer brands offer the best bang for your buck
Jewelry Materials That Are Not So Expensive
If you want luxury, the best step is to consider alternatives that will give you the same quality and beauty but in a more affordable way. This will allow you to balance aesthetics and your budget. Let's look at some jewelry materials you opt for instead of those made from expensive materials like solid gold.
Stainless steel is a cheaper alternative that can afford you a luxurious look and chic aesthetic. Not only that, Stainless steel jewelry is known for durability and resistance to tarnish, and also hypoallergenic, making it suitable for all skin types.
This has been a go-to for lovers of gold who find jewelry made from solid gold unaffordable. Gold plating gives you a replica of pure gold in an affordable way.
Though many who have gone for this option complain about it tarnishing after a while- it will excite you to know that there is gold-plated jewelry that lasts very long and does not tarnish, and the secret to this lies in the PVD coating process, and the stainless steel base metal.
With this, you get jewelry that gives you a luxurious gold feel, does not tarnish, is waterproof, and is affordable.
Semi-precious stones such as amethyst, citrine, and garnet can add vibrant colors and unique patterns to your jewelry collection. These stones are more affordable than their precious counterparts and can still make statement pieces- so if you cannot afford pure gold, diamond, and other expensive stones, these can be a go-to.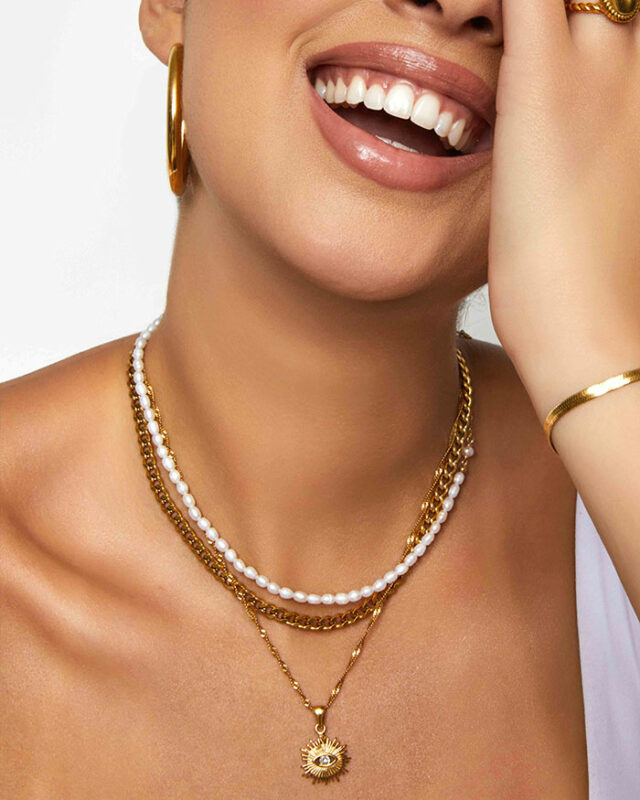 Timing Your Jewelry Purchases To Get The Best Value
Sometimes, it's not what you buy, but when you buy, that saves you a lot of money. Understanding "when" to purchase jewelry is essential to getting those within budget. Here are some tips on timing your jewelry purchases to get the best value
Look out for Holiday sales and Promotions
While holidays are for rest and spending quality time with family, they are also periods for you to watch for significant discounts and deals retailers offer. For instance, Valentine's Day, Christmas, Mother's Day, etc, always come with special sales and promotions on jewelry. These are good times for the best jewelry values.
2. End Of Month Or End Of Year Sales
Most retailers often assess their financials and look to meet sales quotas at the end of the month or the end of the year, which can result in last-minute discounts to boost sales figures. This is another good time to look out for if you want affordable luxury.
3. Check Out For Anniversary Sales
Some jewelry stores celebrate their anniversary with special sales and discounts on their products, including the most expensive ones. The twist is that these offers may be opened only for a limited time- since the anniversary is not every day- so you must keep an eye on the local jewelry shops to know the time.
4. Buy During Black Fridays Or Cyber Mondays
These shopping extravaganzas offer excellent deals on various products, including jewelry. Make sure to plan your jewelry purchases around these major sales events.
Practical Tips For Smart Purchasing
Here are some tips that will help you ensure you are making the best choices for your budget.
Set a budget so you don't get carried away while shopping for jewelry.
Understand your style and preferences so that you pick jewelry that suits.
Build a Relationship with a trusted Jeweler who can help you with their expert advice, offer maintenance services, and guide you through future purchases.
Always be on the lookout for discounts, promotions, and loyalty programs.
Inspect the jewelry closely for any imperfections, and if you are making an online order, ask for a high-quality picture or video.
Always about return policies in case the product does not meet your expectations.
These tips will put you on the right track toward affordable luxury.
Final Verdict
Luxury does not have to be expensive as long you make the right decision, choose the best alternatives, purchase at a good time, and make your purchase smartly. At Pearlory, you can get high-quality, affordable jewelry that suits you and will last for a long time.