There is a popular saying, "Dress the way you want to be addressed." In this context, your work outfit says a lot about who you are and your professional image. Aside from the dress style, office jewelry is one of the major things to take into consideration.
Just as you plan and put extra thought into the jewelry you wear to a party or a night out, so should that same level of commitment and thought be put into the jewelry piece you wear to work. The right jewelry piece not only elevates your work outfit but also conveys a series of powerful messages, such as confidence, professionalism, sophistication, and attention to detail.
There are so many things that go into choosing the right jewelry piece for your work outfit. Get it right, you are appreciated. Get it wrong, you have undermined your whole look. This is why knowing the right jewelry piece suitable for your workspace is essential.
In this article, we will explore the dos and don'ts of wearing jewelry for work and trendy jewelry pieces to elevate your work outfit.
Do's and Don'ts of Wearing Jewelry for Work
When it comes to wearing jewelry for work, there are very important do's and don'ts that you need to be aware of. Although wearing jewelry is about showing off your personality and elevating your look, it has to be done right and appropriately.
Here are the top dos and don'ts of wearing jewelry to elevate your work outfits
1. Do Well to Choose office Jewelry Pieces that Complement Your Body
One thing about jewelry is that it is eye-catching, no matter how tiny it may seem. This is why it is important to choose jewelry that compliments your body without drawing unnecessary attention.
For instance, longer necklaces are perfect for elongating the neck; however, if it is paired with a low neckline dress or shirt, then it might not work as it will draw unnecessary attention to your breasts. Also, drop earrings are perfect for those who want to make their face slim; wearing them for work might not work, as they might be too distracting in meetings due to their eye-catching ability.
2. Don't go for too much sparkle
There is nothing wrong with wearing jewelry with rhinestones, diamonds, and other glittering gems. Though they are lovely, they are often too sparkly and distracting for work. If you are going to wear a jewelry piece with glittering gems, it should be less sparkly or have a less reflective texture. Go for ones that go easy on the polish.
3. Do well to limit your statement pieces
Statement pieces live up to its name – to make a statement. However, instead of wearing too many statement pieces, limit it to one at a time. Focus on your style.
4. Don't wear office jewelry that makes noise
Wearing jewelry pieces that make a lot of noise does not elevate your work outfit. Instead, it does the opposite. People won't find your outfit nice as they would be more focused on glaring at your noisy jewelry.
5. Do well to buy multipurpose or versatile jewelry pieces
One of the first things that comes to mind when buying jewelry is if it looks good. However, it is important to note that as you are purchasing the jewelry based on how good it looks, it is also important to consider how versatile the jewelry would be. You would not want to buy a piece of jewelry that you would have to wear only once.
As a result, buy a jewelry piece that is the perfect fit for any outfit and occasion. Also, do well to get one that is less complex in design, minimum shine, and does not tarnish.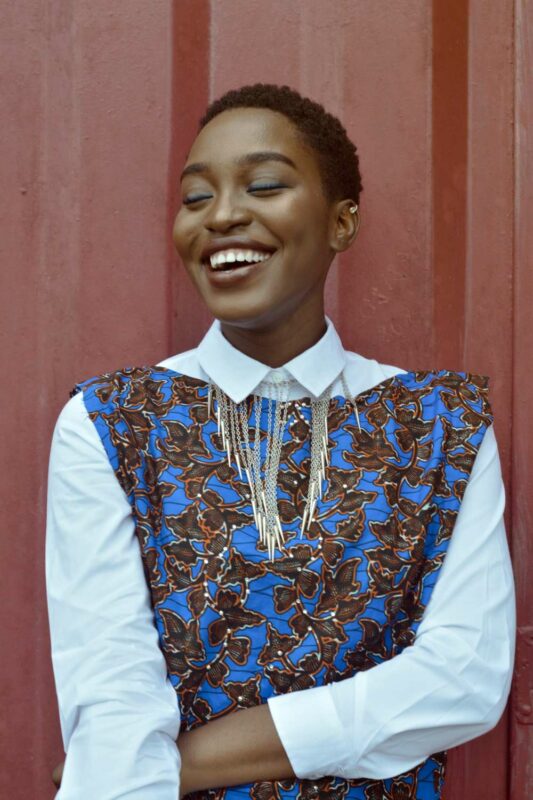 Trendy Jewelry Pieces to Elevate Your Work Outfit
Are you ready to upgrade the jewelry pieces for your work wardrobe? There are so many pieces that can give you that professional yet elegant and fashionable look you want. Some of these include
1. Rings
Rings are one jewelry piece that will never ever go out of style. They are subtle yet one of the biggest outfit enhancers. They go well with any outfit and draw appreciative and pleasant attention to your hands, which often serve as one of the conversation starters. There are so many shapes, styles, and designs available that getting the right one for you is easy.
Here are two stunning options that can transform your office outfits
The Twist Ring
The twist ring is a priceless gold-plated jewelry piece of elegance. Its unique and on-trend design is not just a sight to behold but to be worn. Combining modernity, elegance, and sophistication in its design, the twist detail is intriguing and professional enough to elevate your workout.
Best of all, It can be worn alone or combined with other gold-plated rings.
The Endless Summer Rings
One thing that added this ring to the list is its simplicity and minimalist design. Having an infinity design, it is a jewelry piece that speaks volumes with its numerous meanings. Generally, wearing an infinity ring means eternity and everlasting; however, wearing it on your work outfit represents commitment and dedication.
It is a subtle yet powerful and charming work outfit elevator that should be a must-have.
2. Layered Necklace Set
There has always been something special about having on a layered necklace. Including a set of multiple necklaces with varying lengths, wearing a layered necklace set gives off a modern and on-top-of-the-trend look.
A dashing option is the Mermaid Melody Necklace set. It is a layered 18k gold-plated necklace that adds just enough shine and sparkle to your outfit. Best of all, They not only add interest, depth, and elegance to your entire work outfit but also effortlessly complement your neck.
3. Pendant Necklaces
A necklace with a simple necklace might just be all you need to elevate your office look. Whether it is a statement pendant, a modest-sized one, or small-sized, pendant necklaces are great choices to elevate your office wear.
A great option is the Glistening Sandbar Necklace. For those who love minimal yet noticeable and stylish at the same time, the Glistening Sandbar Necklace is the perfect option to wear on your neck with that beautiful and smart blazer or shirt. Having a gold and diamond pendant attached to the necklace makes a statement and still maintains its minimal and professional appearance. Pair it with a small hoop earring, and you get a professionally elegant look.
4. Hoop Earrings
Hoop earrings, big or small, add a charming look not just to the face but also to the office outfit. They are as trendy as they are complementary. This means no matter the outfit, they can effortlessly complement it. However, it is important to note that not all hoop earrings are suitable for the office. It is recommended you go for hoops with refined and delicate styles.
One on-trend hoop earring suitable for work outfits is the Triangle Hoop Earrings. Classic and uniquely designed, the Triangle Hoop Earrings are a simple, safe, and stylish choice. It is an ageless option that goes well with any office outfit.
You can also go for the Sun Seeker Earrings Set. It is a 3-piece gold-plated hoop earring set, including a pair of bold-mini hoops, a pair of rhinestone-encrusted small hoops, and a pair of classic small gold hoops. With this set, you get plenty of options.
5. Huggie Earrings
Many might argue that huggie and hoop earrings are the same. However, they are a bit different. Huggie earrings are the smaller version of hoop earrings. They snugly hug your earlobe, while hoop earrings are a bit larger, giving space between your earlobe and the earring.
Huggie earrings give the wearer a delicate, refined, and elegant look, enhancing the overall look of the office outfit in a beautifully huggie way.
One to try out is the Mini Gem Huggies. This earring offers just the right amount of shine and sparkle, with its small rhinestone that catches the light and adds a glimmer of elegance to your office outfit and overall appearance,
Remember: Less is more when wearing jewelry in a professional setting.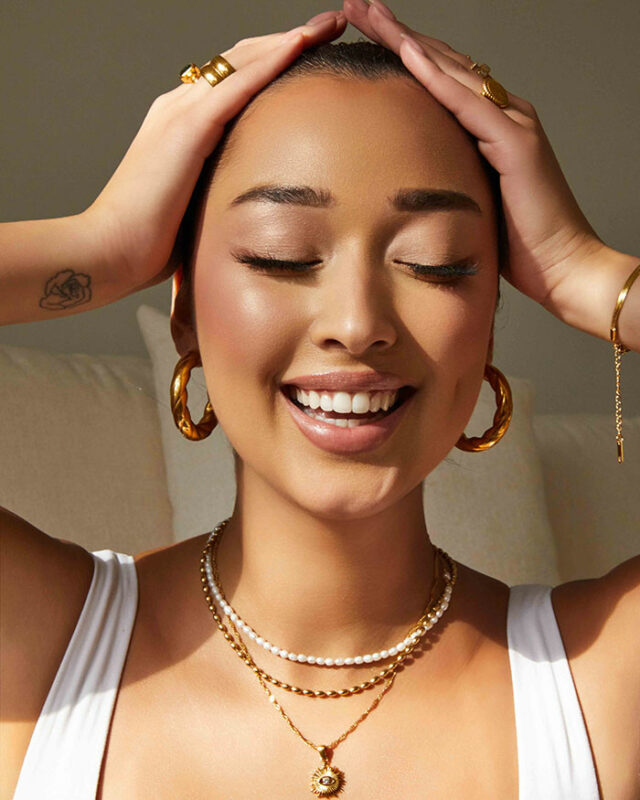 What Kind of Jewelry is Suitable to Elevate Work Outfit?
In this context, going for gold-plated jewelry is the most suitable jewelry option to effectively and effortlessly elevate your work outfit. They are versatile, trendy, and the most fitting choice.
High quality gold-plated jewelry pieces (such as ones from Pearlory) give its wearer the perfect blend of practicality, versatility, affordability, and sophistication. Without being showy or extravagant, they add a touch of elegance to any outfit, making them suitable for any workspace environment.
Aside from the vast array of designs and styles, one of the biggest advantages of gold-plated jewelry is its durability. It is durable enough to withstand wear and tear and is tarnish-free.
Additionally, gold-layered jewelry is available in a wide range of designs and styles. From rings to earrings, bangles, bracelets, necklaces, and necklace sets, you have a plethora of options to choose from to elevate your office outfit.
Conclusion
Investing in the right jewelry piece can make all the difference in your outfit. However, it is important to note that the best jewelry piece for your office outfit depends on various factors, such as your personal taste, style, and office dress code.
We at Pearlory understand the need to look simple and elegant in the workplace. This is why all our jewelry is designed to help you elevate your office outfit while enhancing your overall look. Check out our collection and see how our jewelry pieces can create a lasting impression on your office outfits.