Finding the perfect jewelry that balances aesthetics and comfort, especially for jewelry worn daily is a delicate art. The jewelry we choose plays a significant role in defining our style and enhancing our overall appearance. However, it is important not to abandon comfort for style. Yes, we want our jewelry to look good, but it should also be comfortable, light, and easy to wear. This is where lightweight jewelry comes in.
Unlike heavyweight jewelry pieces that are highly limited as they can only be worn during special events, lightweight jewelry is highly versatile. They are highly comfortable and have a wide range of designs and styles, making them increasingly popular for everyday wear.
On second thought, not only are they not limited to everyday wear, but they are perfect for office wear, hangouts, pool parties, and traditional and special occasions. They go well with any casual, formal, or special outfit, adding elegance to the overall look that cannot be gotten with a heavy jewelry piece. With this, it is safe to say that if heavyweight jewelry is limited, then lightweight jewelry is premium.
When it comes to choosing lightweight jewelry for everyday wear, there are so many options. Continue reading this article to get insight into the factors to consider when choosing lightweight jewelry and the best ones for you.
Factors to Consider When Choosing Lightweight Jewelry
When choosing lightweight jewelry for everyday wear, there are essential factors to consider. These factors ensure you get the right lightweight jewelry, as well as getting one with the perfect balance of comfort and elegance.
1. Material
This is one factor that matters a lot. There are so many materials used today to make jewelry pieces, each having its own weight. This is why, when choosing lightweight jewelry for everyday wear, consider the material.
Materials like sterling silver, stainless steel, and gold-plated materials are the best options for lightweight jewelry. They are highly durable and comfortable to wear without causing irritation or itchiness. Best of all, not only are they lightweight and durable, but also resistant to tarnish, sweat, and everyday wear and tear.
2. Design and Style
Another important factor to consider is the design and style of the jewelry pieces. You are the one who will wear it, so you need to get something that complements your style and personality. Just because it is lightweight doesn't mean it cannot be elegant, and in many cases, simpler is always better.
As a result, there are so many options you can go for that will give you the comfortable yet elegant look you want. For instance, if you want a breezy and stylish look, jewelry pieces with beads, pearls, and hollow designs are the best option. If you want jewelry pieces with minimalist features, go for dainty chains or ones with subtle gemstones. They add a touch of elegance without weighing you down.
3. Comfort
Comfort is one of the biggest reasons why you are buying lightweight jewelry for everyday wear in the first place. So, choosing something heavy or tight defeats the whole purpose of having lightweight jewelry.
4. Size
This is another essential factor to take into consideration. Smaller jewelry pieces are, without a doubt, lighter and more comfortable to wear daily than larger ones. Note: There are also large jewelry pieces that are lightweight, but for everyday wear, going for smaller pieces is the best option.
5. Consider the Season and Weather Condition
There are some jewelry pieces that do not go well with certain weather conditions or seasons. This is why, when choosing lightweight jewelry, consider the season and weather conditions.
For instance, if you are in a hot and sunny location, it is best to avoid jewelry pieces that can rust or tarnish, no matter how beautiful they look. Instead, it is advised that you go for lightweight jewelry made from gold-plated or stainless steel materials. These materials are rust and tarnish-resistant and can survive well in any weather.
6. The Karat
The karat is an essential factor to consider when choosing lightweight gold jewelry. Karat refers to how pure the gold is; therefore, the higher the number of karat, the purer the gold jewelry piece. When choosing lightweight gold jewelry, there are two popular options to choose from – 14K and 18K.
The 14K gold has a purity level of 58.3%, and they're combined with other metals like silver or copper to maintain or increase its strength and durability. It is lightweight and a popular choice for everyday wear.
The 18K gold has a purity level of 75% and is also combined with other metals to increase its strength and durability. It is more valuable, luxurious, vibrant, color-rich, and softer than 14K gold, making it the best karat option used for lightweight jewelry.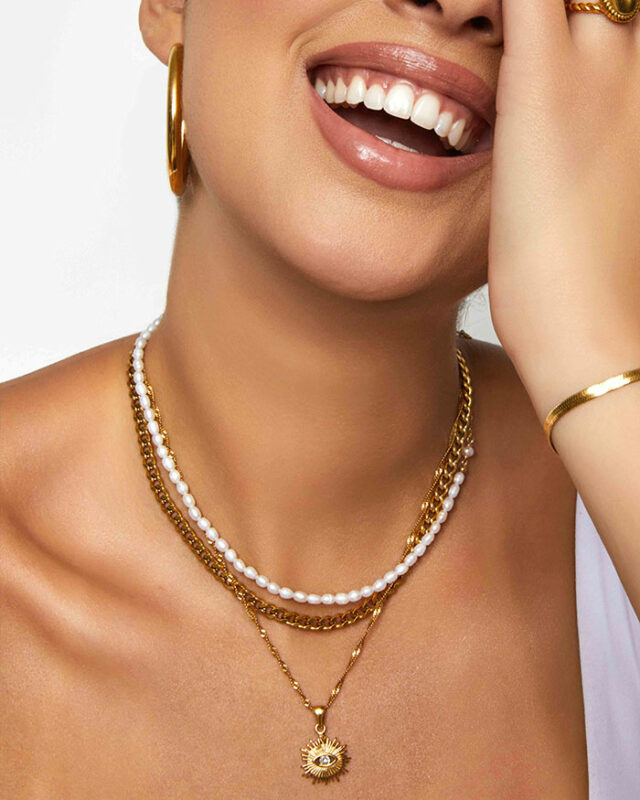 Tips and Tricks for Choosing Lightweight Jewelry for Everyday Wear
There are so many tips and tricks involved in choosing the best lightweight jewelry for everyday wear. So, when you are going out to shop, keep these tips in mind:
1. Metal and Material
As stated earlier, the type of material used matters a lot as it is an essential way to determine the weight and comfort of the jewelry. Therefore, when going to shop, keep these details in mind. Go for jewelry pieces made from metals like titanium, sterling silver, and gold-plated options. When worn, you get a feather-light and comfortable feel.
2. Consider the Occasion
Although lightweight jewelry can be worn on any outfit, to get the perfect blend of aesthetics and comfort, consider the occasion before you choose your jewelry. For work or casual outfits, go for delicate studs or small hoops, while slightly more fancy and ostentatious lightweight jewelry pieces can be gotten for special events.
3. Pay Attention to Allergies
You may be sensitive to some metals without you knowing. As a result, it is advised that even if you have sensitive skin or not, you go for lightweight jewelry made from hypoallergenic materials or coatings. This prevents discomfort and skin irritation.
4. Check Clasp and Fastening
Ensure that the clasp and fastening mechanisms are secure and easy to use. This is particularly important for necklaces and bracelets, as a clumsy clasp can lead to discomfort throughout the day.
5. Balance and Proportion
When picking your lightweight jewelry, keep a balance of comfort and aesthetics in mind. If you want to go for a piece of statement jewelry, get a subtle earring, either studs or hoops. This cools down the statement jewelry, giving the overall look a harmonious look.
6. Layer with Care
While layering lightweight jewelry creates a chic and dignified look, it is important not to overdo it. When going for a piece of jewelry that would be used to create a layered effect, go for jewelry that is minimal, simple, and comfortable. Too many layers can feel heavy and uncomfortable.
7. Personalize your Style
No one knows you better than you. You are a reflection of your choice and style; therefore, remember that when you are picking up lightweight jewelry, go for something that reflects your personal style. For instance, if you choose to go for a pendant necklace or you prefer jewelry pieces with classic, traditional, bohemian, or contemporary designs, ensure it is something that resonates with your personality and style.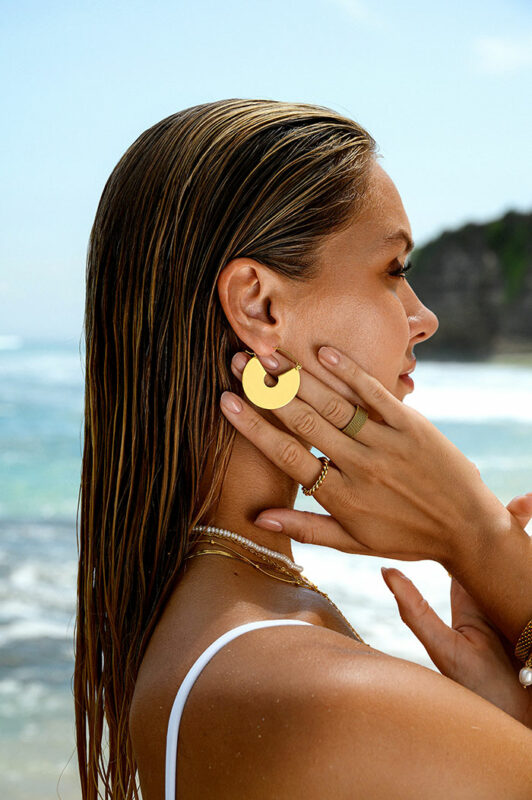 Best Lightweight Jewelry for Everyday Wear
There are so many lightweight jewelry pieces that are suitable for everyday wear. Here are some of the best ones to try out.
Delicate Chain Designed Necklaces
These necklaces are one of the most popular lightweight gold necklaces available and are perfect for everyday wear. Designed in a delicate and thin style, they are as comfortable as they are elegant. They can either be worn alone or layered. A perfect example is the Classic Herringbone Chain Necklace.
This necklace is a combination of sleek, delicate, graceful, and comfortable. This flat and tightly woven links necklace sits flat on your neck, giving it a graceful look. Also, it is versatile as it can be paired or layered with other necklaces.
Pendant Necklaces
A pendant necklace, either attached or separate, is a dainty and fine chain option. Lightweight and beautiful, comfortable and elegant, timeless and versatile are what make lightweight pendant necklaces a must-have.
Layered Necklaces
Some lightweight necklaces are perfect for layering. Although they look good when worn alone, they are the perfect option for layering, and you won't feel them weighing you down.
A perfect option is The Rope Chain. With a 5mm bold gold chain and a rope design, this lightweight gold necklace is perfect for layering. When worn, it gives off a trendy and personalized look that is sure to turn heads.
Stud Earrings
Stud earrings are one of the most common and lightweight jewelry suitable for everyday wear. Having simple or classic designs or subtle gemstones or ornaments adds a touch of elegance and sparkle to your face and overall look while still maintaining that comfort.
Hoop Earrings
Hoop earrings are small, thin, lightweight, and versatile. They come in various styles, sizes, and designs, giving you plenty of options to choose from. You can go for plain gold hoops or geometric-shaped hoop earrings like the Hexagon Hoop Earring, or if you like Huggies, the Lagoon Loop Earring, and many more with intricate designs.
Choker Necklaces
Many believe that since chokers sit around the neck, the suitable material for this is cloth. However, there are so many lightweight gold chokers that are extremely comfortable around the neck and offer a youthful and on-trend appearance.
Rings
Many rings are made of lightweight materials suitable for everyday wear. It doesn't matter what type of ring it is, stackable rings, minimalistic bands, knuckle rings, etc., these rings are lightweight enough to give you the comfort and elegance you need every day.
A perfect type of ring, in this case, is the Roman Numeral Cutout Ring. Highly stylish and a subtle addition of luxury to your fingers, the 18K Roman Numeral Cutout Gold Ring is the perfect fit for formal and casual occasions.
Additional Factors to Consider When Picking Lightweight Jewelry
Here are some additional factors you need to know when picking lightweight jewelry
1. Durability and Delicacy
Lightweight also means delicate. In many cases, some lightweight jewelry is more delicate than others, determining its durability. As a result, consider the durability and delicacy of the jewelry piece before choosing it. 
Also, take into consideration the maintenance the jewelry piece will require to prevent damaging it unknowingly.
2. Size and Fit
Ensure that the jewelry piece you get is the right size and fit for your body type. You wouldn't want to get something too big, small, long, short, loose, or tight as this would either make you uncomfortable or irritated.
3. Budget
Before shopping for lightweight jewelry, ensure you set a budget. This way, you would be able to get jewelry that is both beautiful and comfortable within your budget.
4. Try Before You Buy
If possible, try on the jewelry piece. This will help you know how comfortable it is, if it is a good fit, and complements your overall look.
5. Return Policy
If you are buying online or from a physical store, check if it has a return policy.
Why Everyday Jewelry Should Be Lightweight
There are so many reasons why everyday jewelry should be lightweight. Some include
Convenience and Comfort
Lightweight equals comfort. Although beautiful, heavy jewelry can be tiring, especially if worn for a long period. Imagine having to take off your big earring every now and then just to massage your ear due to the amount of pull and stress it is experiencing.
On the other hand, lightweight jewelry lives up to its name of being light and comfortable. It allows its wearer to move freely without being too flashy, weighty, or a hindrance.
Versatility
Unlike heavy jewelry pieces that have a particular style, design, and occasion-required feature, lightweight jewelry is versatile. You don't have to worry about wearing jewelry that does not match the outfit or occasion, as it can seamlessly transition from day to night. For instance, a hoop earring can be worn for various occasions and on different outfits, and it will perfectly complement each of them.
Subtle Elegance
From comfort to elegance, that is why everyday jewelry should be lightweight. That perfect blend is the best option for everyday wear. Lightweight jewelry gives off a different kind of elegance and finesse that cannot be achieved with heavy jewelry. You get an enhanced appearance that's understated yet refined.
Conclusion
At Pearlory, we take into consideration the comfort of all jewelry wearers, which is why we provide lightweight jewelry that not only elevates your everyday style but also lasts longer. We are your one-stop shop for affordable and high-quality lightweight jewelry pieces. We get inspired by runways and magazines to give you the latest designs and fashionable styles that will turn heads.
Get in touch with us today or browse through our collection.