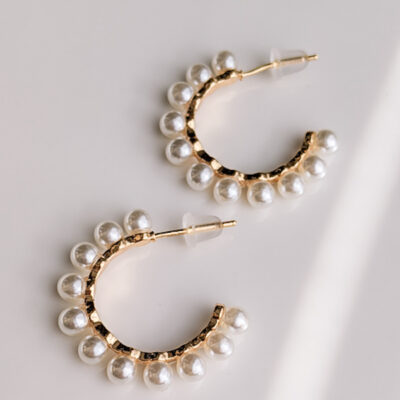 There is no outfit in the world that the right accessory cannot make better. Fashion Accessories are the perfect way to add something special to your outfit with minimum effort. They are an excellent way to bring your outfit together and pull it all together.
For this very reason, we at Pearrlory have created this comprehensive of the seven fashion accessories you need to bring that extra oomph to your outfit.
Plaid Headband
Hair accessories are back, and they are back with a bang. That is why this plaid bowknot is essential for your wardrobe today. It is a perfect and unexpected way to add the timeless plaid print to your outfit.
The plaid print pattern will bring its preppy power to your entire outfit, and you can go further and choose to pair it with black and white accessories to top off your preppy monochrome look. The bowknot on top adds a playful note to the headband, which will translate to your outfit, taking it up a notch.
The headband is made of excellent quality material, making it very soft, comfortable, and suitable for everyday use.
2. Pearl earrings
Jackie Kennedy said it herself, "Pearls are always appropriate," which is why you cannot go wrong beautiful pearl earrings. These gorgeous gold small hoop earrings with pearl detail are perfect for creating a classy look at the office or an elegant look at a business dinner or casual outing.
The best part is these pearl earrings are so versatile you can use them to dress up every outfit under the sun. They are perfect for everyday use, and they add a classy and elegant touch to each outfit.
They make the perfect gift for any woman.
This rhinestone-studded knotted blue headband is the perfect way for injecting individuality into your look. Whether you are channeling Gossip Girl's queen bee Blair Waldorf or you want something to hold your hair strands back, then this is the headband for you. It is the perfect accessory to add attitude and glam to any outfit. The rhinestone studs on this headband give it a sparkle and chic elegance that make it one of the best fashion accessories to refresh your outfit.
Moreover, the headband is perfect for all hair types making it a must-have addition for any woman wanting to add a little sparkle to their hair.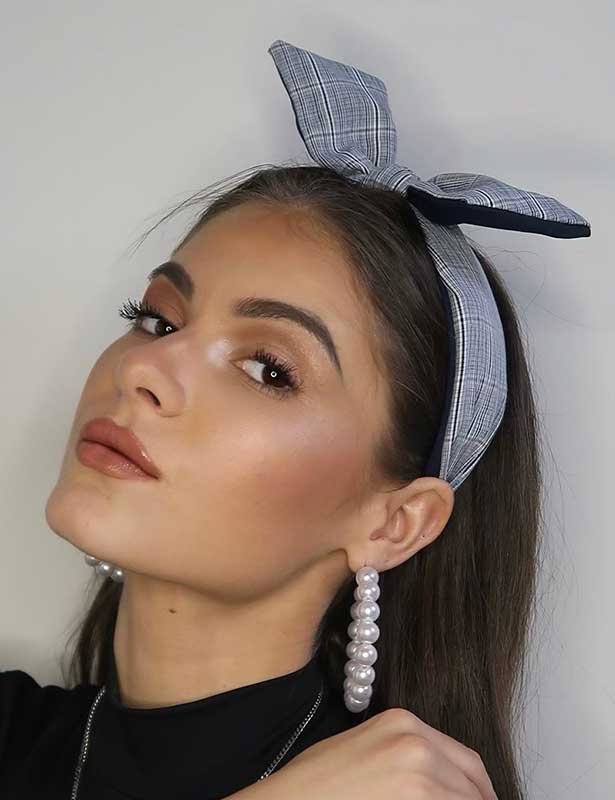 Big hoops are an empowering add to any outfit. They draw attention to the delicate features of your face and always make you look better. That is what these classic pearl hoop earrings bring to the table.
These pearl hoop earrings bring a playful and elegant touch to your outfit. They are perfect for a fun night out or a casual event like a wedding.
The hoops are light and will not burden your ears. Thus, they are an excellent way to stand out and catch people's attention.
This 18K white Gold Plated Choker Clavicle Necklace is a perfect gift for any woman in your life, including yourself. With its unique horseshoe clasp, this necklace is the optimal way to add some bling to your outfit and show off and compliment your neck. The necklace is easily adjustable, and you can adjust it to suit your needs for the day.
This trendy, eye-catching accessory will add some fearlessness to your outfit, making you feel you can conquer the world.
The necklace is made from titanium silver with white gold plating making it a lightweight and delicate addition to your jewelry box.
2-piece Chain Bracelet
Chunky accessories are back in style! Making it the perfect time to get our chunky chain style bracelet, which comes with a twist style bracelet. It is the best way to add a statement touch to your look with minimal effort. The bracelets work well together without overwhelming each other. So whether you are going out for a fun night or just a casual day out, these two accessories will add a touch of glamour to practically any outfit.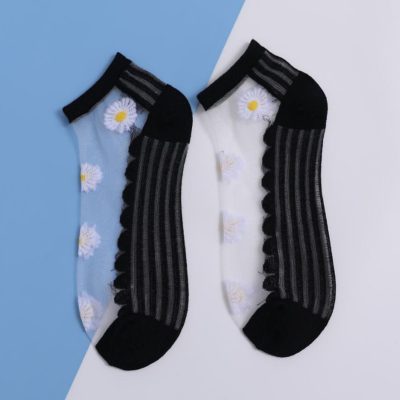 Most people do not imagine socks as an accessory, but we are about to change your mind with our trendy candy-colored women's socks. These socks that come in gray, white, or black are made with comfortable cotton at the bottom and sheer mesh with daisy flower detail. They are the best way to keep your feet snug and stylish at the same time. Plus, you can match these socks with any shoes, whether flats, sneakers, or high heels. Their versatility makes these socks the perfect gift for any woman, no matter their style.
Come on then and get yourself these fashion accessories today!